Empowering rising talent
Joining the company almost five years ago as a Junior Digital Designer, Katie has since gone from strength to strength in her professional development. Backed by our core company values of personal progression, Katie soon rose through the ranks to become our Brand Manager who is responsible for developing our visions and values and helps align ourselves to our top business objectives.The team are thrilled for her hard work and talents to receive well deserved recognition amongst other trailblazers across the region. Amongst many of her hobbies, Katie is also an avid fundraiser for our sponsored charity Derian House. As a member of our CSR, it's safe to say she gets up to a whole host of things when raising money for charity. This includes taking part in a sponge throwing contests and being arrested for the day. Pictured below, Katie was challenged to break out of jail and raise £999, which she achieved in record time beating the rest of the inmates.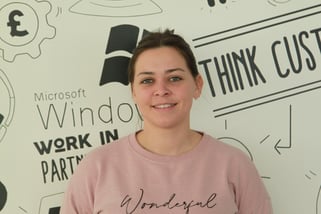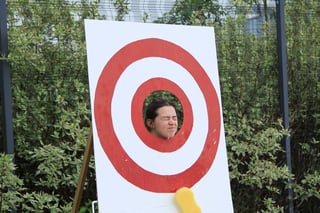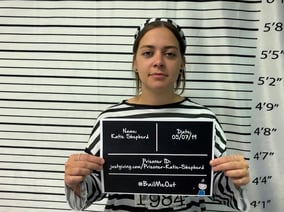 Powering growth for online retailers
Graphic design, web development, creative planning and digital marketing are just a few of the skills at her disposal. Her invaluable efforts have been a front runner in some of the major successful internal projects here at fulfilmentcrowd. This includes leading the companies rebrand back in 2018, the launch of the fulfilmentcrowd platform and more recently helping to remove a frictionless sales process with the development of self-onboarding. This new implementation is an industry first and the hard work put in by the team has provided numerous invaluable benefits for our customers including:
Low Shipping Rates -

Access volume discounts across an integrated network of trusted carriers.

International Reach -

Distributed, flexible storage in centres spanning the UK, Europe and USA.

Freedom to Grow -

Gain the time you need to focus on expanding your business.
"In the time that Katie has been with the company, levels of ideation, commitment, graft and quality of creative output have been outstanding. Not only that, but this has had a direct impact on brand recognition and the performance of our company, with record levels of new client acquisition, revenue and profitability" Lee Thompson, Managing Director.
Building leaders of tomorrow
Personal development and growth are power mount to the success of every sustainable business. It's vital to recognise people are integral part of productivity, that's why training and professional development are part of our core company values. All of our employees are encouraged to be the best version of themselves and doing so we help them fine tune their career path and offer both internal and external training opportunities to help them get where they want to be.
New to fulfilmentcrowd?
Katie is just one example of the hard-working team that works behind the scenes to provide eCommerce retailers with an industry leading fulfilment experience. We additionally spend thousands every year in research and development of new technologies and training whilst working towards making life easier for the modern entrepreneur. This has recently been demonstrated by the implementation of the fulfilmentcrowd app. Designed around you the order management system provides clearer insight into the orders and returns process and a number of smart tools including sales forecasting and seamless order tracking to make running your business a whole lot easier. If you're an online retailer seeking scalable and cost-effective fulfilment software, then look no further. For a demo or detailed proposal please get in touch with us today.