Hobnob episode 4: In conversation with Human Performance Hub
This week we are joined by health and fitness coach Roan Heming, creator of the recently rebranded Human Performance Hub and renowned for his passion for helping others get a better understanding of a healthy body and a healthy mind through the right education. Listen now for an exclusive insight on why he distrusts the wildly competitive industry and how he aims to cut through the BS of quick fixes and magic pills. Alongside this, we hear directly from Roan on how outsourcing his fulfilment helped to acclerate the growth of his business and realise its true potential. Roan also reveals the story behind the Human Performance Hub, what he believes a good business is built on and why there is no magic pill for good health or good business.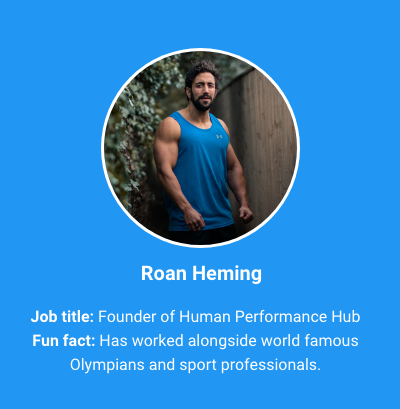 Roan's top 3 tips to growing a successful business:
In our latest interview, we highlight the following top 3 tips for running an e-commerce brand in a highly competitive industry;
1. Tackling consumer perceptions
As a professional fully qualified coach and all-round health expert, Roan operates in one of the most competitive industries out there. Many fitness brands tarnish the image of the sector by offering a quick fix to our fitness goals through supplements, diet pills and shakes. However, Roan explains how these can actually have a serious detrimental effect on your health; he tells a true story about a client suffering a toxic overload from supplements sold on the high street. Through 1:1 consultation, Roan helps uncover any pre-existing ailments and educates clients on what is right for them and teaches them long term objectives for better health, stating that a healthy mental state is central to achieving our goals.
2. Importance of added value
In such a noisy sector it can be hard to break through the lies and with so many misconceptions, brands need to be extra clever when targeting their audience. Human Performance Hub does this through added value resources like video content, Q&A's, questionnaires and free guides. By being present at every available touchpoint, brands can nurture potential buyers through the customer journey and increase their chances of a conversion. The personalisation of recommendations based on an individual's health also embedded into the brand's core values, adding to the quality of customer service that Human Performance Hub can provide.
3. The key to building relationships
Effective relationship management should be at the heart of every business venture, from building relationships with suppliers to developing partnerships with experts in the field. Motivated by a client's bad reaction to a supplement, Roan made sure he thoroughly researched his suppliers, putting customer health on top, as well as educating himself by gaining relevant qualifications. This includes partnering with Inspired Sport, a global quality assurance program for sports nutrition products. Much of his success is also built on the expertise learnt from mentors over the years including commercial GP's, scientists health professionals and Olympians, thus proving that developing realtionships wherever you can in your field is key to building a successful business.
Listen to the full story in our latest podcast now avaialble on your favourite platforms.
Saving time and space with fulfilmentcrowd
One very important relationship Roan has developed is with a trusted fulfilment provider. We are proud to help hundreds of online businesses such as Human Performance Hub, who entrust us to safely store, pick, pack and dispatch his goods for customers. From the get-go, Roan knew he would need a professional company to make sure orders go out on time. At the relief of his girlfriend, he was able to move stock out of his spare bedroom to one our dedicated fulfilment centres. This partnership has led to him freeing up the time better spent focusing on the future growth of his business.