Retain and gain
You've worked hard to get the following on social media that you have - but as you will know, the work doesn't stop there. It is all about consistent content on socials to retain all those followers, keep them engaged and also acquire new followers too! We're going to be talking about some key social media tactics to keep your audience engaged and coming back for more - some things you may know already, others you may not - nonetheless, it's useful info to have!
Add in the human touch
You're an online business made up of humans, selling to other humans. Please excuse the extreme Laymen's description, but this is very important to remember when thinking about content and how you interact with your followers. If your goal is to retain followers, approach your interactions with each member of your audience with compassion and a humanised touch - but also ramp up the visual content you put out there to include more of the faces behind your brand. Who are the key people in your eCommerce business? Let their personality shine bright through your socials and give your followers a person to keep on engaging with.
Be engaging and connect with customers
Social media have so many tools that allow you to keep connecting and engaging with your audience. For instance, and thinking more long term, you can implement a user-generated content based strategy on your socials, utilising hashtags to make this campaign identifiable to both yourself and your followers; and then, the fun part! Create a challenge to do with your product that gets your followers talking and interacting. Next steps include sharing your favourite posts or interactions from your followers to your grid, newsfeed and/or stories. Relationships with your customers are then nurtured - and relationships, as we know, are incredibly important on socials. In fact, being personable and, if necessary, responding directly to complaints on social media, is favourable to 88% of consumers on social media.
Content that keeps them loyal
Your customers/followers, whether they be long standing or fairly new, they still need to be reminded of why they should be loyal to you as a brand, and in addition, to keep them purchasing your product offerings. One way you can do this is by showing them a sneak peak at your newest products that are coming soon. Or you could use giveaways as an opportunity to mutually interact with your customers, incentivising their loyalty in a way, but they will be more than appreciative of the fact that you're thinking about enhancing their experience with your brand.
Get social with us!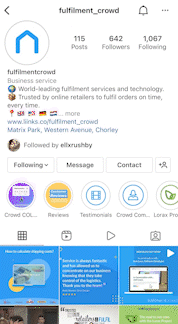 Did you know we have fulfilmentcrowd pages on most social media platforms?

@fulfilment_crowd
fulfilmentcrowd
fulfilmentcrowd
@fulfilmentcrowd

Follow the Crowd and see what we get up to at fulfilmentcrowd HQ, as well as important blog and industry updates you won't want to miss!