An introduction
At fulfilmentcrowd, we have so much talent and expertise in house, that we thought: we really should showcase this! Today we've been chatting to our amazing Head of Customer Experience, Sam Statham. We're talking about all things customer experience (CX); what providing an exceptional CX means to her and how important CX is to sustaining a successful business.
Let's dive straight into it!
In conversation with Sam Statham
E: First of all, thank you so much for speaking with me today, Sam. I know how busy you and the CX team have been recently, what with peak fast approaching! Can you tell our readers a little more about what your role is here at fulfilmentcrowd?
S: Well, I am so excited to have recently joined fulfilmentcrowd as Head of Customer Experience, and it is my responsibility to create and execute the CX strategy with a key focus on customer service, process, and people. I also head our brilliant shared services team here at fulfilmentcrowd. Ultimately, I believe that, at its core, the purpose of customer experience is to understand customers to such an extent that we deliver designed differentiated experiences across the whole customer journey that is so amazing that customers stay, and recommend to friends and family. I mean, after all, customers' successes are our successes too! I am very much looking forward to keeping our customers updated with future plans over the next few months.
E: That's really great, Sam! Your passion for ensuring a first-class experience for our customers throughout their journey at fulfilmentcrowd really is paramount. I want to know, what inspired you to get into customer service?
S: It all started really when I was aged 11, I worked part time in my Dad's Butchers and Bakers. I really loved meeting people and making sure they received a great service every time as we wanted them to keep coming back, and the obsession just grew from there! Over the years I have very much been in roles that have focused on providing exceptional service and continuous improvement, gaining my Yellow Belt in Lean Six Sigma.
E: What a lovely story! And so based on your past and present experience, would you agree that having outstanding customer service is the key to a successful online business?
S: Absolutely, 100%! Customer service experience is vital to the success of any business, more so as eCommerce businesses are spreading wider and as consumers are finding more convenient ways to shop online. Regardless of whether a business has a brick and mortar location or is strictly online, it's imperative to have a robust customer service system in place, enabling customers to contact you easily with accessible channels of communication at the right touch points across the customer journey, which something we are constantly reviewing accordingly.
E: For sure. So Sam, what is the one key piece of advice you would give to our readers who are wanting to enhance their customers' experience?
S: My one piece of advice would be to understand your customer journey through and through. Listen to your customers; understand their wants, needs and how they feel when interacting with your brand...just walk in their shoes! Honestly, the insight is worth its weight in gold and will allow for great experiences and improvements to be made, no matter how big or small, and keep revisiting it, understanding the journey enables continuous improvement which is key to continuously enhancing your customers' experiences.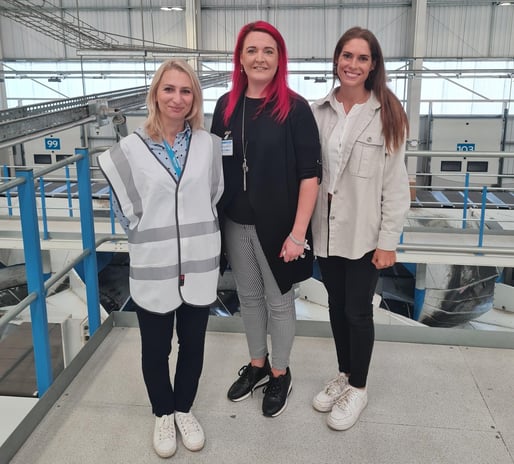 E: Definitely. CX is such an integral part of any business or online business, especially when it comes to customer retention. In terms of fulfilmentcrowd then, what makes our customer service so successful?
S: In my short time here at fulfilmentcrowd, I have been extremely lucky to have spoken to and read, first hand positive feedback and insight celebrating great service where we have gone above and beyond for customers, ensuring their orders are fulfilled on time, every time. This, I would say, has been down to our award winning technology and our colleagues. We also know that things occasionally do go wrong, and by learning and understanding the root cause of why things go wrong, we can continuously improve the overall experience we provide to our customers and colleagues.
E: And what else would you consider to be the criteria for successful customer service?
S: In short: transparency, honesty, empathy, proactivity. You must have an ability to listen well, act accordingly, share knowledge and work together as a team. These principles will create a positive, hassle-free customer experience for everyone who deals with your company, and these principles are certainly core of our own customer experience strategy here at fulfilmentcrowd.
E: Those criteria are what makes your CX go from 0 to 100, I completely agree. I've heard that you are going to be a key speaker at the Customer Experience Live Show UK next year...are you looking forward to it?
S: Yes I am, in Birmingham next summer! I'm a bit nervous, and I do have quite a strong Northern accent! However, it's certainly a fabulous opportunity to talk and share my experience and expertise on customer experience, an area that I am extremely passionate and always excited to speak about. You never know, I might see some of our current and potential clients there!
E: That sounds so great, Sam. Can you give our readers a little sneak peak into the topics you will be covering next year?
S: Well, it's not finalised as of yet, however I can tell you that the topic is 'outside in'. Primarily, I'll be talking about the importance of employees being the center of your CX strategy. Aligning CX with EX (employee experience) is the new frontier for customer organisations. Each employee, no matter what their roles and responsibilities are, play a very important part in the customer journey in ensuring the Customer Experience is the best! Employees are often the difference between winning or losing a customer. After all, you can't have a great customer experience without a great employee experience!
E: Well, I'm certainly looking forward to hearing more on what you have to say about this topic at the conference next year. It's been absolutely wonderful to talk to you about all things customer experience today, and thank you so much for being our first guest on our 'In Conversation With...' series.
S: It's been my pleasure, thank you!