Black Friday is one of the biggest selling times of the year for businesses online and offline so it's important to be prepared. With over £1.4bn in sales in 2018 increasing by 7.3% year on year, Black Friday is a huge opportunity for retailers, no matter their size. So if you're looking to have a really good Black Friday sale for your online shop, we're going to be talking through what you'll need to do to to get prepared even if you're lastminute.com.
Choosing your products and discounts
The first thing you should be doing is choosing the products you're going to include within your Black Friday sale. You can either only include a specific set of products in your Black Friday sale or you can have a site wide Black Friday sale but what you choose will depend on your business.
A tip when thinking about products to include, is to see if there's a high demand for them, will you just choose the most popular products you have? Or you could look at what type of products are trending at the minute.
Once you've selected the items you'd like to include in your sale, you'll then need to decide how much to discount your product to. Remember the discount has to be hefty enough to attract people's attention but not so much that you don't make any profit after all your costs.
Creating all your assets
So now you've chosen your products and discounts you'll need to create some images to promote your Black Friday sale, to let your customers and audience know about your sale.
First, you'll need to create some images. You can easily create images through free online tools such as Canva and Bannersnack. You'll want to create a banner for the homepage of your online shop but remember you need to keep the messaging simple and to the point. Less is more in this case and will help to create more impact. Take a look at the example below.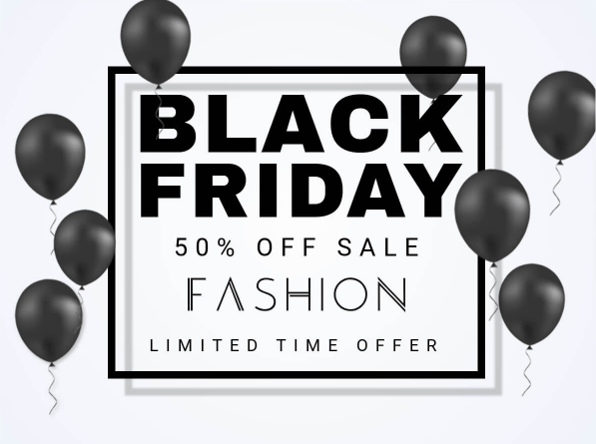 Quick Tip: Try and keep any images you create in line with your branding but with a Black Friday twist!
You'll also want to create images for your social media posts too. If you haven't created images for your social media accounts before there are different size requirements for each. If you're using a programme like Canva, they have pre-set canvases that you can use for each platform.
If you have a brick and mortar store, you'll also want to create some posters and relevant signage to display around your shop. If there's an offer advertised on your social media channels or online shop for an in-store only discount, you'll want to ensure that when customers come in for the deal they'll be able to find it easily.
Setting up a teaser campaign
Now that you have your products and discounts chosen as well as images for your social media profiles, next you'll want to start planning a simple teaser campaign for your Black Friday sale.
The purpose of a teaser campaign (the clue is in the name) is to tease your existing customer base and those lurking on your online shop and social media about your upcoming campaign. Perhaps they've had an eye on one of your products and are eager for it to be included in the sale. These kind of customers will be more engaged with any content you push out about your Black Friday sale.
There are a few different types of content you can create for this. Firstly, images for your social media that let people know that something's coming but doesn't reveal too much as well as some text content for your channels too.
Email is also a huge part of any campaign and is still one of the biggest revenue drivers, so you definitely need to make the most of this channel. You can let your existing email contacts know about the upcoming sale and offer them an exclusive extra 10% off for instance but if you're looking to grow your email list, invite visitors on your website to sign up to receive your newsletter for an exclusive sneak peek or even again, extra discount.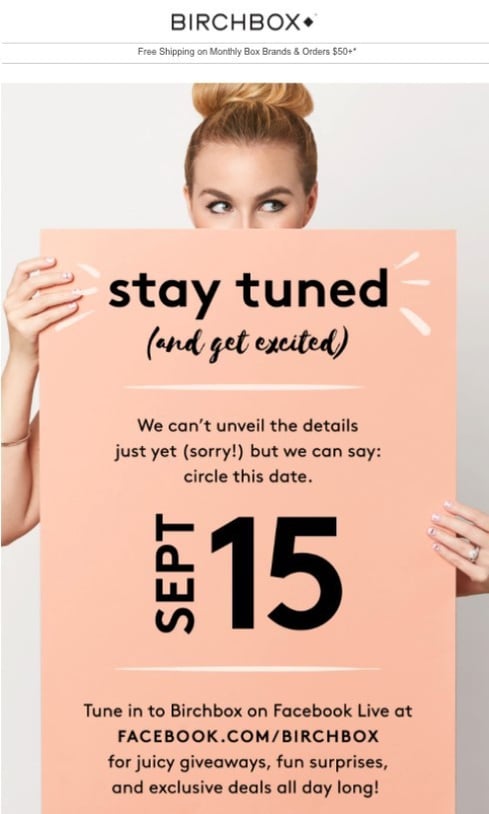 You'll want to launch your teaser campaign slowly, perhaps only on one channel to begin with i.e. email so that your email list knows they're getting an exclusive before anyone else and this can help to increase loyalty. From there you can begin posting on all channels about your upcoming sale perhaps a week or so beforehand.
Testing your discounts
So now you have all your assets ready and your teaser campaign running, it's time to get all your discounts applied to your products, and most definitely in a test shop; you don't want your items going on sale too early!
No matter what kind of discount you've chosen to do, whether it be a site-wide discount of 50%, a selected range of products or a coupon code, you need to test it thoroughly before going live. You don't want to be scrambling on the day trying to fix your discounts as well as run your shop and perhaps deal with disgruntled customers over codes that don't work properly.
Launching
Once you've completed the above steps you're ready to launch your Black Friday sale.
Quick Tip: make sure to turn on your Black Friday discounts at 00:00 on the 29th November so eager shoppers can place their orders while you sleep.
If you're looking for a more in-depth guide on how to get prepared for Black Friday, why not download EKM's Ultimate Black Friday Prep Guide.
About the author
Rachel is a Digital Marketing Executive for EKM, one of the UK's leading eCommerce providers. She has over 4 years of experience in Digital Marketing across a variety of industries including Energy and Accounting.