The clean club dream...
Adam, the CEO of sustainable golf club cleaner brand, Verta Golf, started playing the sport about 3 years ago. 12 months after he picked up his first club, the dreaded pandemic began and the first lockdown went into full swing. In the midst of what felt like 'doing nothing', golf was really the only sport you could play during this tumultuous time - so Adam began playing more frequently since it was pretty much all he could do recreationally.
This meant one thing: that he needed to clean his equipment more and more, bringing it in the house - which generally made more of a mess! He started thinking that there needed to be a simpler way to do this. Adam is a man who is very much into other sporting activities, such as mountain biking and what have you. All of these sports seemed to have cleaning products saturating this market - but what about golf? Upon researching on Google: 'how to clean your golf clubs?' Each page led to the same answer of leaving them in a bucket of hot water with fairy liquid. Not to mention the act of traipsing your dirty clubs through the house, from the garage in order to clean them - all whilst aggravating your partner in the process! Hardly a quick and easy solution - let alone a sustainable one. This led to the birth of Verta Golf club cleaner.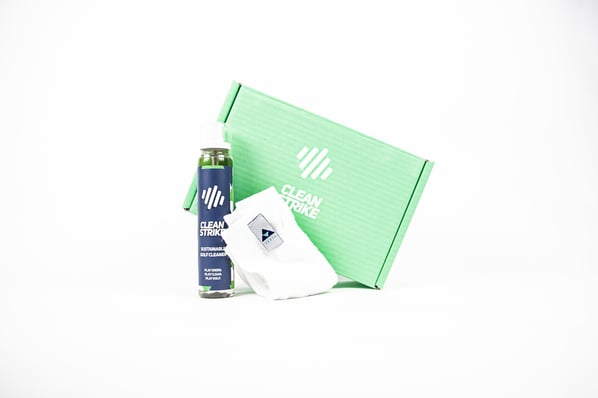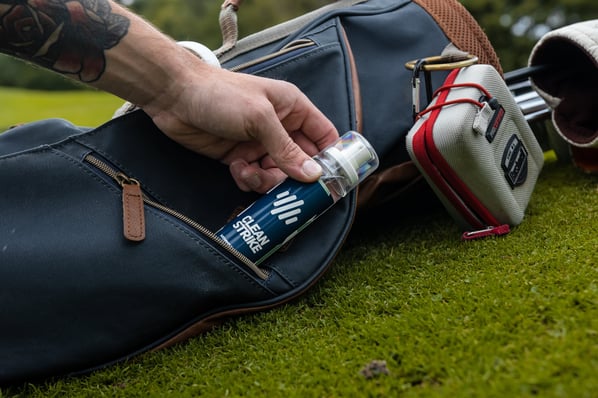 The sustainable way to clean...
Sustainability was a crucial aspect for Adam to implement not only when it came to making his products, but throughout his entire brand from the inside, out. When it came to formulating their first product line, Adam's desire for a sustainable golf cleaner was paramount - so, part of the solution has a chemical within it that is made entirely out of vegetables. Totally organic. Totally sustainable. The formulation itself also has a PH of 5.5, making it kind to your hands, equipment and the grass on the course - giving their customers' added peace of mind whilst taking to the fairway. Sustainability may have begun at the formulation stages, but it certainly didn't end there.
With every bottle of Verta Golf cleaner, Adam has used Ocean Preventative Plastic for the packaging of the product, which not only uses recycled plastic found and removed from our oceans, but the organisation helps to prevent plastic from making its way into our waters and causing damage to the life and ecosystems that are meant to thrive there. In fact, Verta Golf is now on the Ocean Preventative Plastic website as an approved partner - which is something to really be proud of. So, when it came to finding a fulfilment partner who will both fulfil orders quickly and efficiently; with a commitment to being more sustainable within a rather carbon-emission rich industry. That's where fulfilmentcrowd came in. The locality of fulfilmentcrowd HQ to where Adam was was perfect in terms of delivering stock whilst cutting down the transportation time and thus carbon emissions from that - as well as keeping close to Adam's primary consumer base in the UK for this same reason. Our Lorax Project - whereby we outline our commitment to making more eco-conscious decisions and aiming to lower our carbon emissions within our industry was another huge pull factor for Adam in his decision to choose the Crowd.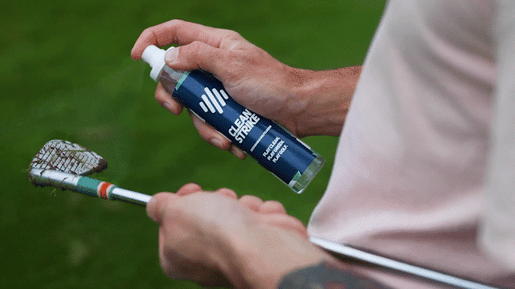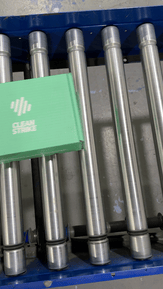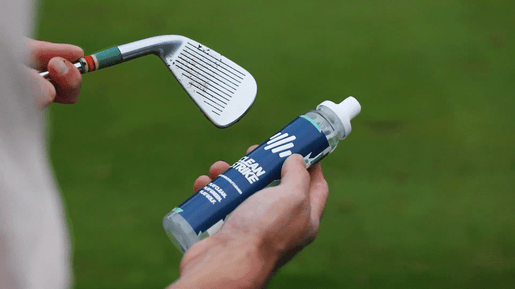 fulfilmentcrowd: fulfilment partner of choice...
Alongside Verta Golf, Adam also works in the motor industry and understands the need to provide an exceptional level of service for customers. Feeding that back to his passion for building Verta Golf as a brand, now that we live in a world where the expectations for next or same day delivery are prominent, it is of the highest importance that these expectations are met every time an order is placed, picked, packed and dispatched. We at fulfilmentcrowd forever strive to fulfil every order on time, every time - which made us the perfect fit for Verta Golf.
To Adam it was a no-brainer to use a fulfilmentcrowd as his provider in order to get the orders out much quicker than perhaps Adam would alone, and instead outsource his fulfilment needs to the Crowd where trained warehouse operatives make it their priority to fulfil this service to the highest standards possible. Whilst, of course, keeping his customers' orders flying off the shelves as efficiently as possible, and meeting that need and expectation. Choosing fulfilmentcrowd also had benefits in terms of scalability that Adam had identified during his decision to make us his fulfilment partner - when Verta Golf goes stratospheric, our warehouse has the man-power and the capacity to keep up with those orders, without compromising on high quality and rapid order processing and dispatch.
What's next for Verta Golf?
Verta Golf is still in the launch phase which, excitingly ends in March 2022 - what with their brand exposure increasing as a result of attending various industry showcases and expo's around the country to really get their name and message out into the world. With Golf season starting in April of this year, Verta Golf will be doing a ton of social media activity when the Masters is happening, but particularly in terms of shouting about their fantastic brand from the rooftops! We cannot wait to see what's to come from Adam and his team at Verta Golf, and as we are for all of our clients, we will be there for them; fulfilling every order to the highest degree of care and attention, and getting them one step closer to the 18th hole!