The green retail revolution
Asda recently announced the opening of their new sustainability store based in Middleton, Leeds. The new green store is the first of its kind for one of the big four supermarkets in the UK. As part of their 'Better Planet' Scheme Asda have implemented a range of sustainable actions to help reduce plastic waste. Earlier in the year, Asda were also the first supermarket to introduce a vegan aisle, encouraging shoppers to shop and eat greener and it's safe to say they have firmly placed themselves as front runners in the war against climate change. Previously only seen in small independent retailers, Asda are the first major supermarket to introduce refill stations where customers can fill up their own containers with things like pasta, cereal, tea, coffee and cleaning products. The large retailer has teamed up with some of the nations most loved brands in a new initiative to limit the amount of unnecessary waste that packaging accumulates, with Asda aiming to save 1 million pieces of plastic waste a year. Additionally, the new green store includes:
E-charging points

A large recycling hub

Loose fresh produce

146 tonnes of plastic removed from their bedding range

BCI responsibly sourced cotton clothing range

100% recyclable flower packing

A preloved clothing pop up shop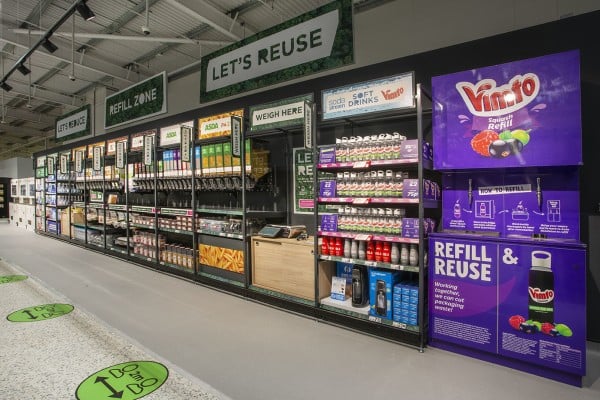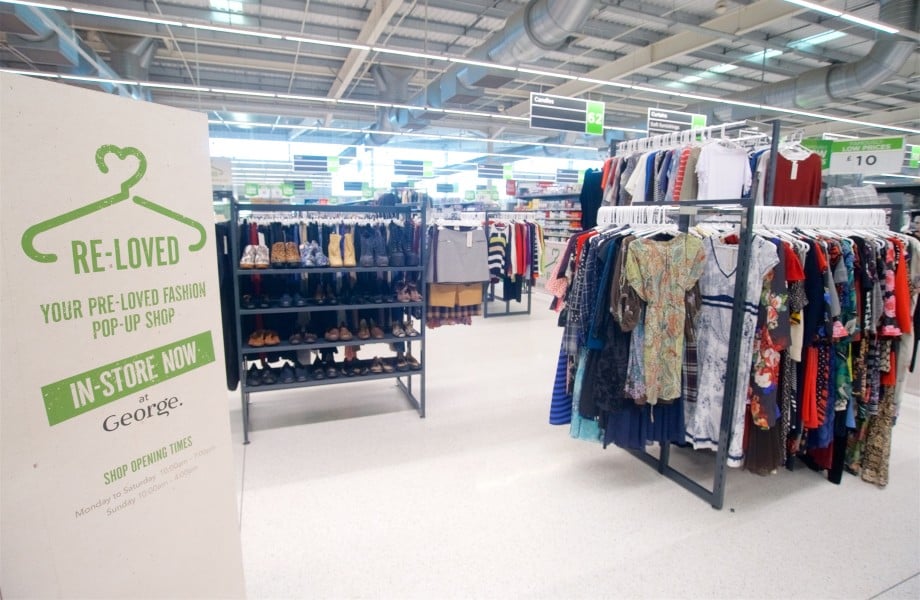 A need for sustainable shopping
Arguably Asda now have the first mover advantage from the rest of the industry that is most likely to appeal to eco conscious shoppers and sets a precedent for future store openings and increases the likelihood of competition following suit, improving the sustainability efforts of the whole industry. After the recent message from Sir David Attenborough in his new documentary – 'A Life on our Planet' it's safe to say we don't have long until the effects of climate change are irreversible with much of the blame on increased cattle farming causing deforestation and plastic pollution in our oceans as well as rising sea levels from the warming of the ice caps. Stark messages like these reinforce the emphasis and action needed for all of us to make small changes to create one big change in saving our planet for future generations to come. Although many argue if it's up to the general population or the world's biggest corporate polluters to make the change to beat global warming.
Green fulfilment of the future
Here at fulfilmentcrowd we believe the responsibility lies with everyone, however companies such as ourselves can set examples for others to follow to operate more sustainably. That's why we have introduced our Lorax Project, which tracks our mission is to become the UK's first fully sustainable fulfilment provider by 2023. To meet this challenge head on, fulfilmentcrowd's overarching logistics solutions decreases the negative impacts of eCommerce, connecting their clients with zero emission electric delivery fleets, biodegradable packaging and a zero-waste policy. Asda is following in the footsteps of hundreds of eCommerce businesses who have implemented sustainability into their core business model. Likewise many retailers such as OneNine5 the eco freindly travel bag retailer, Sucker Straws who provide reusable straws and Ohelo Bottles who provide sustainable, reusable travel bottles have all teamed up with fulfilmentcrowd due to our aligned beliefs around doing good for our planet. If you want to partner with one of the leading fulfilment providers then feel free to get in touch today.