An award winning mission
fulfilmentcrowd were delighted to be crowned 'Business Enabler of the Year at the prestigious Lloyds Bank National Business Awards on 10th November 2020. The ceremony celebrated great British businesses that excel in creativity, setting new standards of service delivery and product innovation. The 'Business Enabler' accolade is recognition of our mission to be trusted by online retailers to ship their orders on time, every time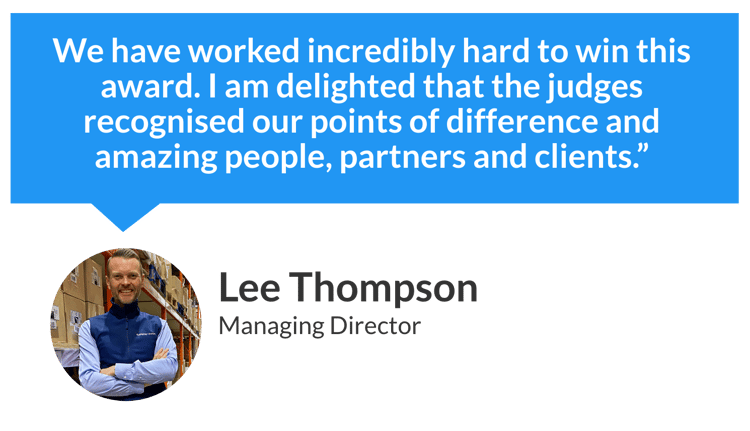 Watch the video below for a sneak peek at the virtual awards ceremony.
Powering your international growth
We work closely with 400+ online retailers from a whole host of sectors including Health and Beauty, Sports, Fashion and much more. Here are just some of the ways we accelerate the growth of eCommerce businesses:
International Network:
Our customers benefit from a network of international fulfilment centres including the UK, Germany, Netherlands, and the USA and additional sites coming soon in 2021. This gives our clients unlimited capacity and an easy step into new markets. View our locations
Order management on the go:
Back by a team of in house developers, customers gain instant access to our order management platform. Accessible on the go to suit the modern entrepreneur's busy lifestyle. The app includes everything you need to simplify running an online business. Platform features
Perfect proposition:
Our industry-unique pricing offers a low-risk approach for all of our customers. Operating a pay as you go strategy including no contracts and no minimums serving our clients with a level playing field no matter their size, helping to optimize their cash flow for future growth. Simplified pricing
Meeting the need for speed:
After introducing an industry first, we have seen a huge influx of customers self onboard to our services. Meeting the needs of time-poor entrepreneurs, clients can instantly connect their favourite channels and send their stock in a few simple steps. How it works

Ready to scale without stress?
Over the years we have gained a proven track record and developed close relationships with clients, many of whom joined as startups and now experience high growth aided by our low-risk fulfilment solutions. Whatever your business goals are for the future you can rest assured you will always receive service excellence from our dedicated team who are always on hand to help the running of your business that little bit easier. Join the UK's leading fulfilment provider today and benefit from pay as you go pricing, flexible fulfilment solutions and limitless capacity.