With so many choices available through ecommerce, many shoppers rely on reviews and customer feedback to aid their decision process. It is essential for businesses to understand that not all reviews will be positive, and to not be disheartened by negative feedback. To ensure that you know how to deal with it, we have put together six steps on how to respond to negative feedback and reviews.
---
1. Reply
This step may seem simple, but it is imperative not to ignore your customer – we don't want them feeling like their custom isn't valued.
By responding, it shows that you care about their opinions, and increases your reputation for customer relationship management.
---
2. Say thanks
Thanking your customer will show that you appreciate the time and effort it took for them to write their feedback, despite the negative nature of it.
Remaining professional and being courteous should in turn increase your customer retention levels, and it also highlights your focus on customer care.
---
3. Offer a solution
Give yourself the opportunity to make it right and display to shoppers that you truly care about their customer satisfaction – that they're not 'just another number'. Can you offer a future discount? Do they need a replacement product?
Offer a solution to let shoppers know that your business is trustworthy and is reliable to solve customer queries.
---
4. Reinforce positives
There is no shame in giving your business an ego boost. Emphasise to your customer all the positives of using your business, and stress why you're the right business for them. Differentiate yourself from competitors and highlight your USPs, reminding your customer why they chose you in the first place.
---
5. Be considerate and apologise
It is key to remember that your customer may be genuinely upset regarding their experience (hence why they've gone to the trouble of composing their review), so it is essential to remain considerate.
Using an understanding and empathetic tone to respond to your customer will help to calm the situation. Apologising can emphasise the importance of customer value, and can also display your business as being proactive with regards to the management of customer relationships.
---
6. Keep it short and sweet
When it comes to responding to your customers, keeping it short and sweet is the best way to go. If your response is too lengthy and wordy, your customers may think you're trying to make excuses and not take responsibility. It is important to be transparent with your customers, in order to maintain high levels of customer loyalty and retention.
---
Examples of Feedback Responses in Practice
The content of reviews and feedback can vary greatly depending on which industry your business falls under. Below are two examples of how businesses from different sectors have used (or not used) the steps above to help build their responses.
Example One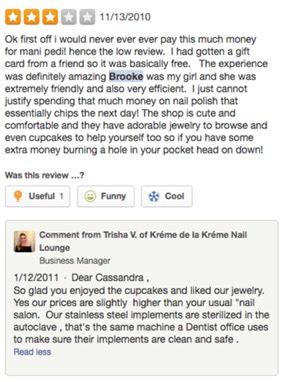 The most noticeable detail from this example is the date. Two months for the business to reply to their customer is far too long. It is essential to follow step one and avoid leaving your customers waiting and doubting the value of their custom.
The response did get something right, though. The customer's review relates to the price of the service they received, and using step four, the business manager has reinforced the positives of her service by differentiating it from its competitors, and by mentioning its USPs. Following step four has allowed the business to remind their customer why they chose to use their service in the first place.
---
Example Two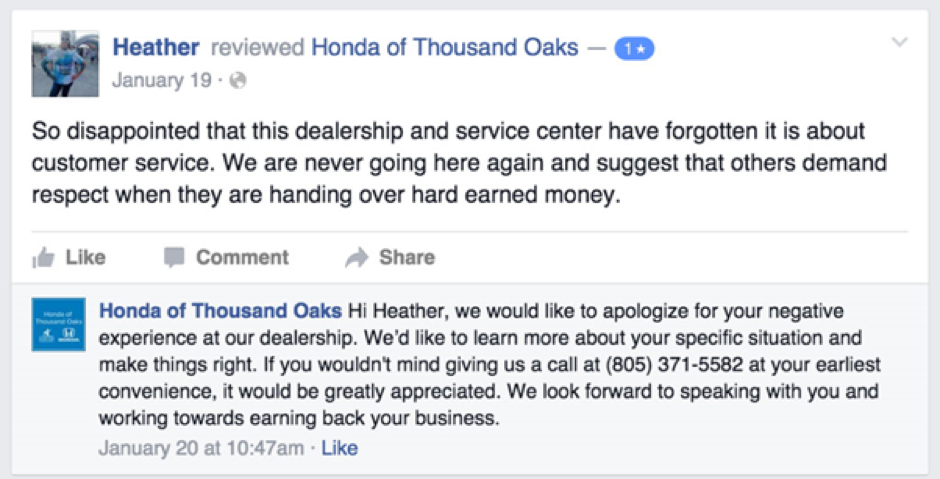 In contrast to the previous example, this business has followed step one by responding to the customer the next day.
The main focus (and strength) of this response is step five – being considerate and apologetic. The tone of voice and language used is empathetic and professional. These traits help to show the business to be proactive and that it values its customers. The business has also provided a step to achieving a solution (step three), by offering the customer a contact number to help resolve the problem.
These examples help to display how you can use negative reviews to your advantage – taking them as opportunities to showcase your company's culture of great customer management and care.
---
Need CRM Help?
At Exact Abacus, we offer customer relationship management software to help ensure that your customers' needs, queries, and reviews can be answered efficiently. Contact a member of our team to find out how our software can help your business grow its customer relations.
by Gemma Tomlinson on 10/05/2017