What does DDP mean?
Delivery Duty Paid (DDP) also known as DT1 account, means that your customers won't suffer from such shocks, and your brand reputation will not be damaged. Companies, such as fulfilmentcrowd, will temporarily cover the import VAT on your items in advance to ensure seamless and successful delivery to your customers. This prevents your end customer-facing from unexpected charges which could result in more returns, products being stuck at borders, loss of repeat purchase, and complaints.
Thankfully, we now link with our integrated carriers to print the customs documentation and labelling needed during the fulfilment process of your orders, so that you avoid disappointing your customers and maintain the harmonious delivery experience that existed before Brexit.
How to avoid the Brexit Import VAT trap?
UK eCommerce businesses can now avoid the minefield of shipping internationally with the new implementation of Delivered Duty Paid (DDP). This new service allows eCommerce businesses to avoid unexpected delays, customs charges, and even rejections at the UK/EU border so your customers' orders aren't interrupted in transit.
Over the last few weeks, there have been multiple reports of disruption between EU and UK trade because of the frictions faced at the border. The Financial Times reported a 30% decrease in German exports to the UK and a similar picture in both France and Italy.
Back in December fulfilmentcrowd reported on the number of new changes that would affect our customers in our Brexit survival guide, including how to apply for new EU tax codes, check commodity codes and identify the point of origin. Some of the main contributing factors of the problems many traders are now facing, months later, include administration fees and red tape from individual countries.
Tim Gray from Technology Outlet explains: "There are still huge delays and confusion around returns to and from the EU, and new changes are happening all the time - such as Spain and a few other countries now require a National Identification Number for the end customer, which caused further delays trying to contact them."
The Independent newspaper writes: "As the crisis unfolds, it's likely we will see a corresponding 35 percent drop in e-commerce imports, which will cost UK importers £5.25bn in higher prices on goods, lost sales, and border fees. Read more from the article here: The Independent, 9 March 2020.
Some customers have been faced with an additional 12% tariff on items valued over £135, demanded at the point of delivery, for clothing originating from outside the EU.
"Thanks to fulfilmentcrowd's integration with
Incoterm's Delivered Duty Paid

rules, the process for exporting into the EU is now much more streamlined." – Tim Gray,

Technology Outlet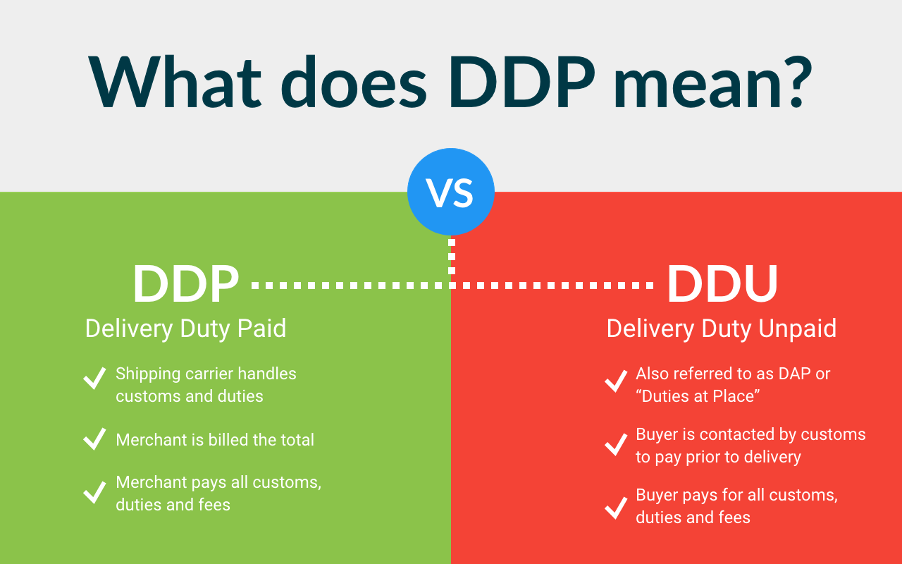 How does DDP work?
First, fulfilmentcrowd's integrated carriers pay Import VAT and Duty upfront at the border. Next, fulfilmentcrowd pays the carrier on behalf of your business, including import VAT & Duty service charge. These charges, including the Import VAT & Duty costs, are then invoiced to your account on a weekly basis. This ensures your end customers' orders don't face any further delays in receiving your products.
Lucy Kellock, Ernest Leoty comments, "setting up the DDP account has really helped us, it has meant that there is a lot less admin for us to do on our side and also keeps our customers happy as there is no delay getting their order."

Do I need DDP?
In some cases, yes, your business will need DDP to operate a smooth customer journey. Delivery at Place (DAP) or Delivery Duty Unpaid (DDU), refers to the shipping process that happens if your business doesn't have DDP. On items over £135, customers will be contacted by customs and asked to pay for the VAT, duties and fees to release their purchase.