A fulfilment first for the UK
The new refrigerated storage facility comes at a time when demand for direct to consumer goods is at an all-time high with many businesses making the decision to move online due to eCommerce rocketing in the past 12 months.
This new unique capability goes one step further, providing new, low-cost opportunities for online retailers of perishable goods such as probiotics, supplements, foods, beverages, pharmaceuticals, and cosmetics. The new refrigerated facility adds greater value for your business' product range by extending the shelf life of goods, improving the quality of raw and natural ingredients, and if required the ability to deliver goods chilled directly to your customer's door via integration with our network of carriers. For example, some probiotics retain quality and efficacy for longer, when refrigerated compared to non-refrigerated probiotics that can lose the quality of 'good' bacteria. Storing your products in short or long term refrigeration not only saves on quality but also provides the added value of freshness to your customers.
What is cold chain fulfilment and how does it work?
Cold chain fulfilment is the name given to the process needed to transport perishable goods at a controlled temperature. Products are stored in consistent temperatures throughout their order fulfilment journey without spoiling or losing quality. Typically, they arrive from their manufacturer/wholesaler in cold store container lorries and arrive at a fulfilment centre, and are stored in the same temperature-controlled conditions where they are picked and packed in insulated packaging with ice bags to keep goods cool while they are then delivered directly to consumers.
Introducing Marton Fold, UK
fulfilmentcrowd's cold storage warehousing investment is 168m³ in capacity backed by the powerful Danfoss cooling system and is kept at 2-4 degrees Celsius all year round. This creates perfect storage conditions for goods such as cheese, chocolate, supplements that contain live cultures, and products containing natural ingredients such as Kombucha. The specialist refrigerated storage unit is monitored 24/7 via CCTV and digital thermometers, guaranteeing a consistent temperature. The facility adheres to the leading ISO9000 and BRCGS quality management and food safety certification, ensuring your orders are delivered with every care. Our catalog of fulfilment houses operates using First In, First Out (FIFO) method, eliminating waste costs from your bottom line. fulfilmentcrowd is also investing in batch code tracking soon to be released on our order management platform later this year.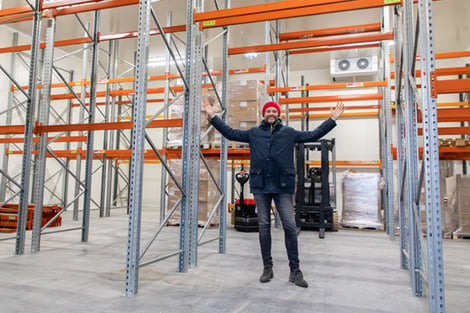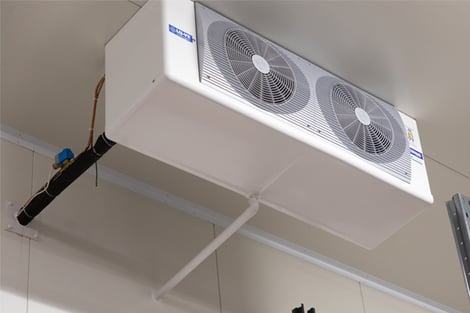 Is chilled fulfilment right for my eCommerce business?
Chilled fulfilment opens up the market for new and existing eCommerce retailers and removes the challenges of distributing temperature-sensitive goods without adding huge additional costs to you and your customers. Our cost-effective cold chain fulfilment method opens up new opportunities for you including:
Extending product shelf life: Ideal for probiotic and liquid supplements, pharmaceuticals, cosmetics, and foods that are made with raw and natural ingredients.
Improved product quality: Keep goods fresher for longer and could even improve taste, flavor, and texture experience for your end customer.
Increased market share: Expand your product range and become an early adopter to meet the needs of growing markets.
Delight your customers: Delivering goods chilled straight to consumers' doors is a relatively new concept usually only seen by supermarket chains and is now available to SMEs.
Additionally, fulfilmentcrowd offers mixed storage solutions for retailers that have a mix of products that require ambient and chilled storage all from one facility. Chief Marketing Officer at fulfilmentcrowd, Vanessa Ashworth, explains: "Our growth is powered by capacity and capability here and in key international markets. The opening of Marton Fold makes our services available to a new sector where customers can expect the same leading-edge tech and a proposition structured around no minimums, no contracts, simple pricing, and excellent service level guarantees." If you'd like to know more information about our chilled fulfillment service in the UK please get in contact with our Business Development Managers who will be happy to assist in meeting the fulfillment needs of your business.