fulfilmentcrowd's model has always been one based upon a commitment to promoting sustainability by finding innovative ways to optimise its operations and minimise its environmental impact. Rather than building fulfilment centres from scratch that consume energy and swallow up green spaces, we seek to utilise existing spaces that would otherwise be redundant. These are our FNPs (Fulfilment Network Partners).
Having seen first-hand that there is a vast amount of under utilised space in existing fulfilment centres around the world, this is why we've worked with 16+ partners across the globe to bring unused spaces to life, allowing us to make the very best use of what is already there, without the need for costly construction projects or additional infrastructure. This approach bolstered by our proprietary warehouse management system - the fulfilmentcrowd platform - allows us to minimise our environmental impact while still providing consistently high-quality fulfilment services to our customers.
With this in mind, we are delighted to introduce to you the latest FNP, Fairfield, with our partner Haith's, based in Louth - Lincolnshire!
About FNP Fairfield
Designed with nature in mind, the centre will serve our growing customer base of eCommerce retailers, whilst also restoring and enhancing its natural surroundings, with an extreme focus on being wildlife friendly.
As part of our commitment to sustainability and preserving the environment, Haith's have taken steps to integrate nature into the new fulfilment centre. With this in mind, approximately 20% of the two-acre land mass has been dedicated to natural surroundings, planting native trees and hedges to enhance the natural beauty of the area.
Additionally, two large ponds are to be incorporated into the design of the centre, each with their unique purpose. The first pond will serve as an attenuation pond, providing natural surface water drainage, whilst the second will be a wildlife-friendly pond with a jetty, so colleagues can enjoy a break outdoors and stay connected with nature.
We believe that by incorporating nature into the workplace not only provides a healthier and more enjoyable environment for our colleagues, but also creates a more sustainable operation overall. By dedicating space to nature and enhancing the natural surroundings, we hope to reduce our environmental impact and contribute positively to the surrounding ecosystem.
To achieve our vision, we have dedicated around 20% of the two-acre land mass to nature, planting native trees and hedges and incorporating two large ponds. One pond will serve as an attenuation pond for natural surface water drainage, whilst the other will be a wildlife-friendly pond complete with a jetty for colleagues to enjoy breaks and connect with nature.
Not only this but we are taking steps to reduce our reliance on electricity. To do this, we are installing double the usual amount of transparent rooflights to maximise natural daylight and minimise the need for artificial lighting. This not only saves energy but also creates a brighter and more pleasant workspace for centre colleagues. Secondly, environmentally friendly air source heating and premium insulation will be fitted to optimise energy efficiency. This means that we will be able to reduce our reliance on electricity and gas for heating and cooling, whilst still maintaining a comfortable and productive working environment.
We are proud of our commitment to sustainability and believe that our efforts will not only benefit the environment but also create a healthier and more enjoyable workplace for our colleagues. By prioritizing sustainability in all of our operations, we hope to set an example for other businesses and contribute to a more sustainable future for us all.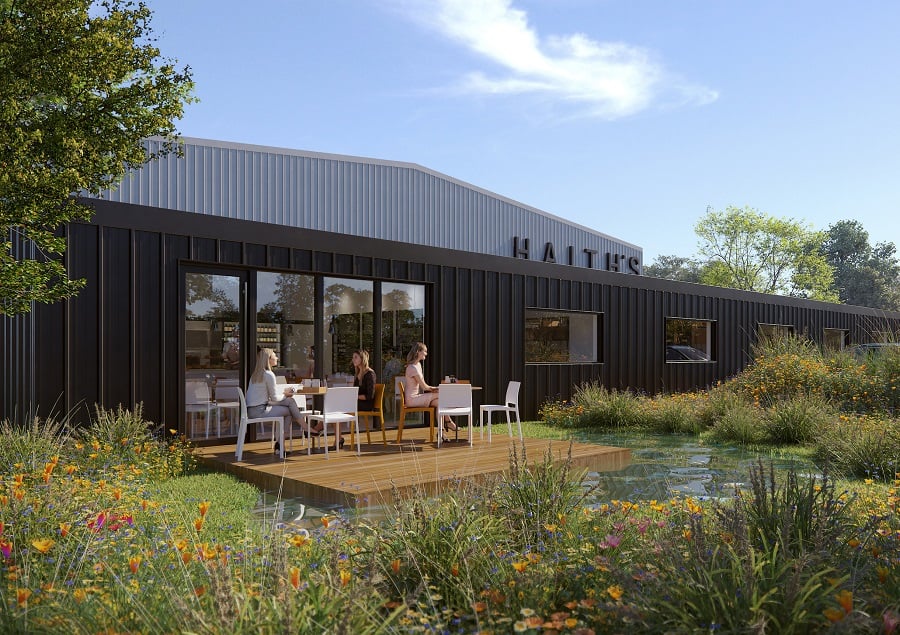 Michelle Bruce, our head of network, said: "The new fulfilment centre, which brings our total to 17, globally, marks an important step for fulfilmentcrowd - not just in terms of geographical growth and enhanced service offering for our customers, but also in our commitment towards sustainability. As industries strive towards a greener future by incorporating better business practices, this still rarely involves tangibly giving back to nature.
"We're really proud that we can make a positive impact in this way for our business, our customers and the environment and we hope that this unique project will inspire and encourage others to consider rewilding their commercial spaces too."
fulfilmentcrowd's commitment to sustainability
fulfilmentcrowd are passionate about working with the best businesses in the world of sustainability, supporting them with solutions that aid their sustainable endeavours and defy industry norms. Take a look at a few examples:
OneNine5
We are proud to work with OneNine5, a sustainable client who creates eco-conscious luggage for the modern traveller. Inspired by Sir David Attenborough himself, they are dedicated to driving positive change within their industry when it comes to sustainability. One of their main goals is to completely eliminate single-use plastics from airport security. To achieve this, they use sustainable materials such as durable vegan leather and recycled plastics to produce their travel bags. By prioritising eco-conscious materials, they are not only reducing their environmental impact but also setting an example for others in their industry.
"When shipping out your orders efficiently and safely, we've partnered with the best, our friends at fulfilmentcrowd. They've given every consideration to ensure they prioritise the planet in their daily operations. Aside from the shipping label on your order, the whole fulfilment process is paperless and fulfilmentcrowd have removed over 120 tons of plastic waste, by switching to biodegradable and sustainable alternatives, instead of the traditional plastic mailer bags." - Alex, OneNine5
Verta Golf
Our client Verta Golf takes incredible pride in being sustainable across the entirety of their processes: from the formulation of their product to the Ocean Preventative Plastic packaging that they use. Their golf club cleaner spray itself is made using by-products of vegetables, as well as having a neutral PH - making it good for the hands as well as non-toxic to the grass on the golf course. 
CEO Adam needed to find a fulfilment partner that allowed for his fulfilment and operations processes to be just as green as the rest of his business practices. That's where fulfilmentcrowd came in. The locality of fulfilmentcrowd HQ to where Adam was perfect in terms of delivering stock whilst cutting down the transportation time and thus carbon emissions from that - as well as keeping close to Adam's primary consumer base in the UK for this same reason.
Celtic Wind
Celtic Wind are a sustainable hemp and CBD brand who established themselves back in 2012; setting their sights on introducing the increasingly-popular hemp industry into Ireland. Producing Hemp for their products is in actual fact, a super sustainable way to farm. Not only is hemp a carbon negative plant, but the plant itself actually absorbs carbon from the atmosphere.
Celtic Wind partnered with fulfilmentcrowd to get closer to their UK consumer base and boost their online sales by an impressive 45% through our fast and efficient deliveries. Whilst we recognize that carbon emissions are an unavoidable aspect of dispatching goods, we are committed to mitigating our environmental impact through sustainable practices in our warehouses, such as Otter's Brook and Matrix Point. Due to the location of our centres helping Royal Mail balance operations across the UK, our tight operational control of size and weight limits of consignments as well as the last mile largely facilitated by postal workers on foot, our average carbon emission per parcel for financial year 2022-23 was 85.97g, a huge 85.97% lower than the 2021/21 average of 221g.
Our fulfilment processes are powered by renewables or low-emission energy sources, which aligns with Celtic Wind's ethos of sustainability and eco-consciousness. We take pride in being an eco-friendly fulfilment partner for a company that prioritises sustainability in their manufacturing process and product composition. We are honoured to partner with Celtic Wind and work towards a more sustainable future for all. By leveraging our eco-conscious fulfilment solutions, we can help businesses like Celtic Wind achieve their sustainability goals and reduce their carbon footprint.