the big silk is a revolutionary beauty and cosmetics brand that has taken the industry by storm throughout the last few years. With its innovative approach to creating beauty products for its consumers, the big silk has become synonymous with luxury and elegance. The brand's commitment to using only the highest quality silk and natural ingredients sets it apart from its competitors. Each product is meticulously crafted to enhance the natural beauty of every individual, promoting healthy and radiant skin and hair. Founder of the big silk, Abigail Benton, created the products due to her own experience of using silk pillowcases and how it transformed her hair, skin and general well-being. However, she noticed the lack of affordable, luxury, silk products on the market. Believing everyone deserves to indulge in the benefits of silk, she saw a real opportunity to create her own and start her own business.
the big silk's product range is extensive, from pillowcases, scrunches, and hair towels to face masks, they use the finest Momme, Grade 6A mulberry silk to guarantee premium quality. The brand's attention to detail is evident in the luxurious packaging that exudes sophistication and provides a personal touch for its consumers. With the big silk, beauty enthusiasts can indulge in a pampering experience that leaves them feeling revived, empowered, and ready to take on the day.
The brand has seen huge success with over 14 thousand followers on Instagram, celebrity endorsements, and their products mentioned on TV shows such as This Morning and Lorraine. The exposure and validation from these influencers help generate excitement and interest among existing customers, resulting in a surge in demand for specific products.
When looking for a fulfilment partner to pick, pack and ship their products, the big silks' main factors were:
Reliability and consistency, ensuring all orders are sent quickly and within the timeframe promised to customers

Quality control with the packaging and shipping of products completed to a high quality

Cost-effectiveness, with the ability to provide value for money as well as staying cost-effective through peak and non-peak periods.
Reliability and Consistency
With over 30+ years in the industry, fulfilmentcrowd provides a high-quality service to luxurious brands, ensuring orders are processed on time throughout the year, including those busy peak periods. Excellent service is hugely important to brands such as the big silk, this is why fulfilmentcrowd always offers the best service to clients. At the core of fulfilmentcrowd lies a combination of industry expertise, innovation, and cutting-edge technology. This guarantees meticulous monitoring and management of every aspect of performance, with an unwavering commitment to improvement. The fulfilmentcrowd platform allows a brand to manage inventory and track all consignments when being shipped to multiple locations across the globe.
Quality Control
Being a brand that specialises in luxury and high quality, the big silk needed a fulfilment partner that could provide a luxury experience for consumers when they received their orders. Fulfilmentcrowd places huge importance on quality control to ensure the best service delivery, ensuring all products are packaged to perfection. Utilising advanced technologies and industry expertise, every step of the fulfilment process, from order processing to shipping, is closely monitored, assessed and trackable in real time within the fulfilmentcrowd platform. This commitment to maintaining the highest of standards ensures customers receive their products feeling satisfied. During the last year, fulfilmentcrowd has successfully shipped the big silk's orders to 99.9% SLA, ensuring consumers receive their orders on time, every time.
"fulfilmentcrowd has helped us achieve faster order processing and shipping times, leading to increased customer satisfaction." Abigail Benton, Founder of the big silk.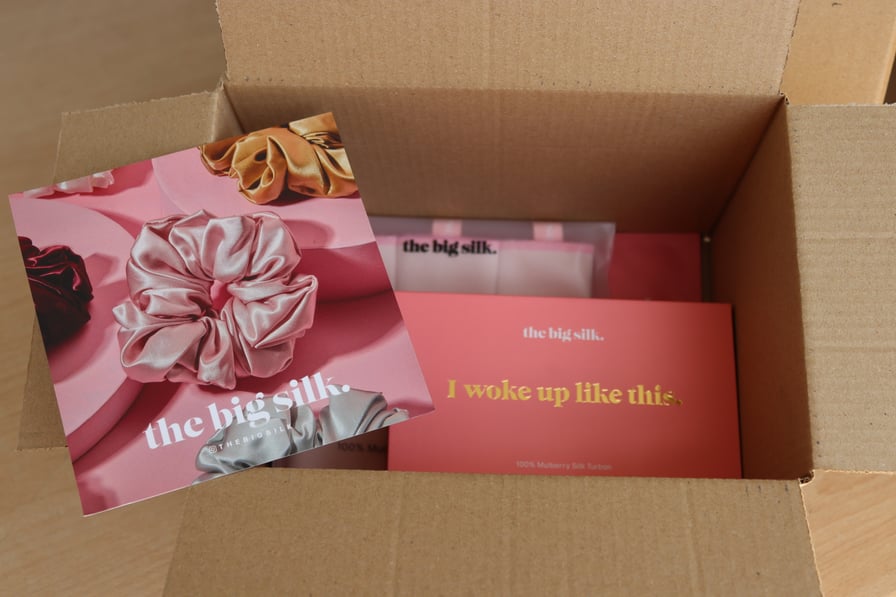 Cost Effective Solutions
With evident peak periods throughout the year, and higher volumes of orders selling, fulfilmentcrowd offer the big silk a variable cost model and tariff based on volume, allowing them to store more stock at busier periods and reduce costs in the quieter periods of the year. This cost-effective solution offers a more competitive rate and offers a scalable commercial solution, that rewards brands as they grow with tariff-based volume discounts. Partnering with fulfilmentcrowd also allows the big silk to ship products efficiently and effectively from one location – Matrix Park in the North West of England to the rest of the world. From Bermuda to Japan, fulfilmentcrowd successfully ships the big silks products to 54 countries, enabling them to reach beauty enthusiasts globally.
the big silk has undeniably made a significant impact on the Beauty and Cosmetics industry, with its innovative approach and dedication to using the finest silk, resulting in a flourishing brand that resonates with beauty enthusiasts across the world. In selecting a fulfilment partner, the brand prioritised reliability, quality control and cost-effectiveness. With a commitment to meeting SLAs and providing excellent service during peak periods, fulfilmentcrowd has proven to be a dependable partner for the big silk. The partnership has resulted in faster order processing and shipping, leading to heightened customer satisfaction.
For more information on how we can help your Beauty & Cosmetics business click here.