Our story begins...
Let's jump right back to the start, when Caroline, the creator of Apolina, was on maternity leave. As a new mother of two little girls, she sought high and low - both online and in-store for boho-style clothes for her children. Something that reflected both her personal taste and love for embroidered, hand-crafted pieces; as well as choosing timeless clothes that would surpass the trends as they came and went. For Caroline, she felt as though there was nothing out there that ticked these boxes.

With a career in fashion buying and designing behind her, she decided to use her own industry knowledge, connections and creativity to bring her vision to life. She wanted to move away from the practices of fast fashion labels, and focus on being a sustainable, slow fashion brand; with a passion for remaining timeless and classic in terms of style and process. One of the ways she achieves this is by keeping an old-time craft - a craft that achieves the embroidery and smocking details at the very core of Apolina's designs - alive. Caroline feels an extreme sense of privilege to say that she works with a factory in India, to which the owner and his family have been treasured friends of hers for around 15 years. Each worker takes such pride in the craft and skillset that they have – a skill that has been passed onto them by their mothers, grandmothers and so on. Whenever Caroline makes the trip to India to visit the factory that her products are manufactured, the process of watching her visions come to life is one of her favourite things. She describes it as simply, mesmerising to see this.
The timeless nature of Apolina not only lies within its craftsmanship or its style; but is also embodied Caroline's ultimate inspiration for creating her online brand: her Nana. When Caroline's mother was young, her mum used to knit and create clothes by hand for her little girl to wear. These hand-crafted clothes were then passed down to Caroline and subsequently to Caroline's girls to wear and make memories in. The inspiration to create a brand that encapsulates the time-old tradition of passing down handmade clothes generation after generation helped Caroline to piece together her brand vision for Apolina. The name Apolina itself was also conjured from her childhood memories, as a girl with a doll her Nana passed onto her who, to her recollection, was fondly named Apolina.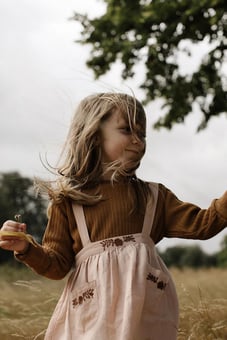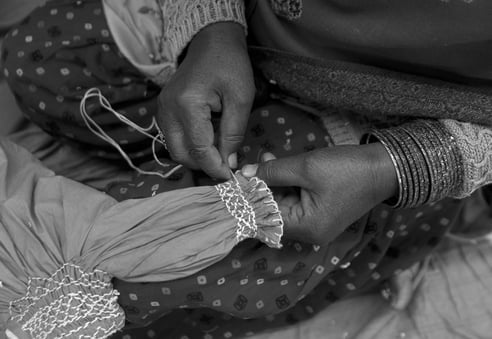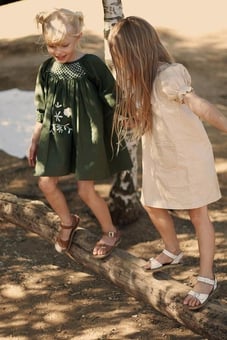 Moment of growth...
Surpassing the 5 year mark, is a point of success for any business. Apolina is soon to celebrate their 6th birthday, so this was the perfect opportunity to look back through Apolina's growth journey and focus on those key moments of success that lead the brand to where it is today. An integral 'growth moment' for Caroline was when Apolina gained its first wholesale customers. One day, a few years back, a children's wear brand reached out to Caroline, expressing how there was a beautiful symmetry between both their brands and product lines - so much so, she wished to stock Apolina's collections on her webpage styled with her knitwear products to-boot! Unsurprisingly and from that moment on, Apolina had floods of wholesale requests coming in; thus growing their online sales and their brand presence rapidly.
At around the three year mark, Apolina's orders were all being packed at Caroline's home. Each order that came in was therefore fulfilled by Caroline herself; and in addition, with the remarkable help of her partner and sister too. This was, in her words, utter madness due to their seasonal peaks arising whenever a new collection is released, in which there are two new collections every 12 months. As this leads to 90% of their sales occur within the first few days of launch, fulfilling orders themselves became unmanageable in such a narrow window of time. When Caroline and co packed 100 orders a day themselves, they had to place a 3-4 day dispatch time on their website - which sparked a conversation surrounding the need to outsource their fulfilment. Luckily for us, Caroline chose to be a part of the Crowd.
Apolina and The Crowd
It was incredibly daunting at first: to weigh up the need to outsource against wanting to relinquish some of the control over your online brand. For Caroline, it was all about the unboxing experience. Questions began to swim through her mind like: 'what if my customers received an order that wasn't beautifully wrapped and boxed?' Without being able to oversee each order from pick, to pack, to dispatch of course was and is incredibly scary not just for Caroline, but for all business owners who have worked too hard to get to a point of excessive growth and who now have the need to outsource their fulfilment.
Nonetheless, Caroline's onboarding experience was a real credit to the way we work here at fulfilmentcrowd - our Head of Sales ensured that her mind was put at ease from the word 'go', making sure that she knew she could come up to the warehouse anytime she liked to see her products being packed to perfection and exacting standards. It was clear to see from our conversation that Caroline's trust was put into us as her chosen fulfilment partner not just because we strive to fulfil her orders on time, every time - that's a given. It was also because we created such a positive customer experience for her from the off - with her onboarding manager always at the end of the phone, ready to answer any questions she had and putting her mind at ease that we would look after Apolina in a way that she would want us to.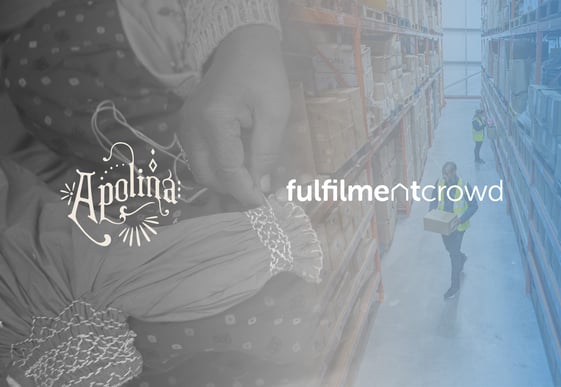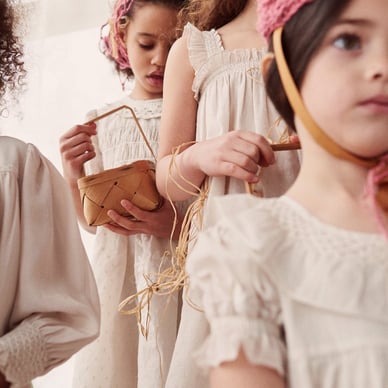 What's in store next?
Like all the best brands who have exciting new-ness coming up over the next year and beyond, Caroline couldn't go into too much detail about what is coming up for Apolina. One thing she did mention, however, is that their SS22 (that's Spring/Summer 2022) collection is due to drop super soon. We don't know who's more excited! All of us at fulfilmentcrowd, from our warehouse operatives and everyone within our Customer Operations Team will be there on hand for Caroline - and Apolina - every step of the way. That's what makes us a partner.