Introducing Curlsmith. Known for its exceptional hair products, the brand has gained immense popularity within the curly hair community and can be found on leading beauty websites and in multiple boutique beauty salons across the globe. In a quest to inspire curl confidence and make their world's best performing 'clean' curl care products accessible across the globe, Curlsmith were in search of a dependable fulfilment partner and entrusted their logistical needs with fulfilmentcrowd.
Revolutionising Hair Care and embracing natural curls
Curlsmith is a US-owned revolutionary hair care company that has taken the beauty industry by storm. With a strong focus on curly hair, Curlsmith offers a range of innovative and high-quality products specifically designed to nourish and style natural curls. Their unique approach to hair care embarrasses the uniqueness of every curl pattern and texture, empowering individuals to embrace and celebrate their natural hair.
What sets Curlsmith apart is their commitment to using clean and natural ingredients in their formulas, they prioritise the health of hair by avoiding harsh chemicals. Their products are crafted with botanical extracts, vitamins, and plant-based proteins to provide hydration. With an emphasis on education and inclusivity, Curlsmith has become a brand among the curly hair community, accumulating over 300k followers on Instagram, Curlsmith has helped people of all backgrounds achieve beautiful, healthy, and vibrant hair.
Following on from the UK's exit from the European Union, the brand encountered challenges in distributing its products to resellers and consumers. Strict delivery timelines and warehouse requirements further hindered their ability to penetrate the European market.
To address these issues and reach consumers around the EU, the brand required a logistics provider that could meet specific requirements, including:
Scalable capacity with access to multiple EU locations

Reliable and robust solutions to service Curlsmith's ecosystem of B2B retail stockists

Modern technology with supporting process design and integration expertise

Account management with direct fulfilment support
With scalable capacity and a trusted relationship in place, the brand has grown its European business by 130% year-on-year.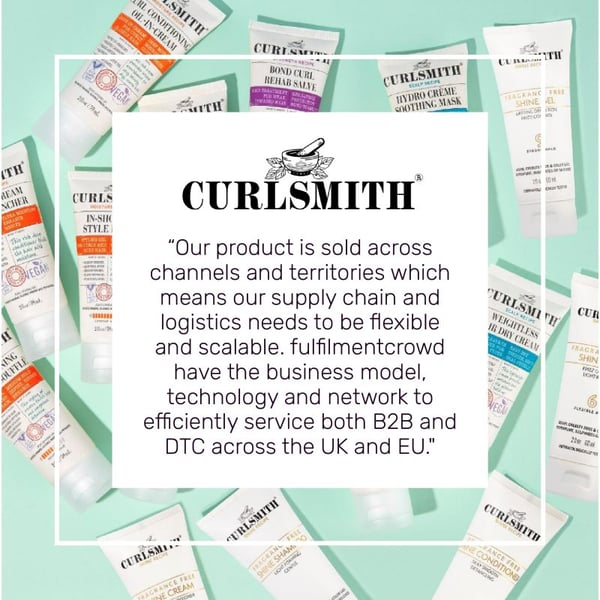 Scalable capacity with access to multiple sites throughout the EU
As brand recognition grew, the demand for Curlsmith products increased, prompting the need for a more efficient method to cater to the European Union Consumers. By partnering with fulfilmentcrowd, Curlsmith found the necessary support to tackle challenges like Brexit effectively.
Curlsmith and fulfilmentcrowd partnered to service the brand's growing European consumer base with a robust solution across two of fulfilmentcrowd's European fulfilment centres located in Born, Netherlands and Bocholt, Germany.
Curlsmith's products are delivered directly from the manufacturer, utilising fulfilmentcrowd's designated entry points in Rotterdam, Le Harve, and Hamburg. The inbound container operations are handled in Born, with stock replenishment taking place at the DTC centre at Bocholt to serve the German market. For wholesale orders, the routing system ensures that they are directed to the nearest location with sufficient stock to ensure timely and complete fulfilment.
Reliable and robust solutions to service Curlsmith's ecosystem of B2B retail stockists
Our recent research has shown that a staggering 82% of skin and haircare retailers operate a multichannel or omnichannel distribution strategy, with a strong presence online and offline on their own distribution channels, as well as within third-party stockists and distributors. Curlsmith is at the forefront of this trend, with an extensive ecosystem of B2B customers throughout multiple countries across the globe.
fulfilmentcrowd supports the brand with their UK B2B stockists, managing the inbound flow of wholesale orders to a number of major retailers and marketplaces including Zalando, The Hut Group and a number of boutique salons across the world.
Modern technology with supporting process design and integration expertise
When choosing a fulfilment partner, Curlsmith needed the right technology that would allow them full control as well as integrate with their EU websites and wholesale channels for 'hands-off' operations. The fulfilmentcrowd platform offers real-time visibility and control over inventory levels, maintaining sufficient stock availability and ensuring customers across the EU receive their orders as quickly and efficiently as possible.
The fulfilmentcrowd platform also offers a seamless integration process for brands such as Curlsmith looking to optimise their fulfilment operations. With robust technology, the platform ensures a smooth integration with aggregators, popular ecommerce platforms as well as more complex integrations with ERP (enterprise resource planning) systems. The platform and supporting expertise also offers built in Open API, Webhooks, EDI or file transfer.
Account management with fulfilment support
By utilising fulfilmentcrowd's services, Curlsmith's team benefits from streamlined management of multi-location fulfilment. They have the advantage of having a dedicated Account Manager, a consistent point of contact, with the ability to access a comprehensive overview of various aspects, including stock, orders in process and returns.
The collaboration between Curlsmith and fulfilmentcrowd has proven to be a successful partnership resulting in expanded market reach. In the face of Brexit challenges, previously hindering Curlsmith from shipping products to the EU, fulfilmentcrowd provided a viable solution enabling the brand to significantly grow its European operations.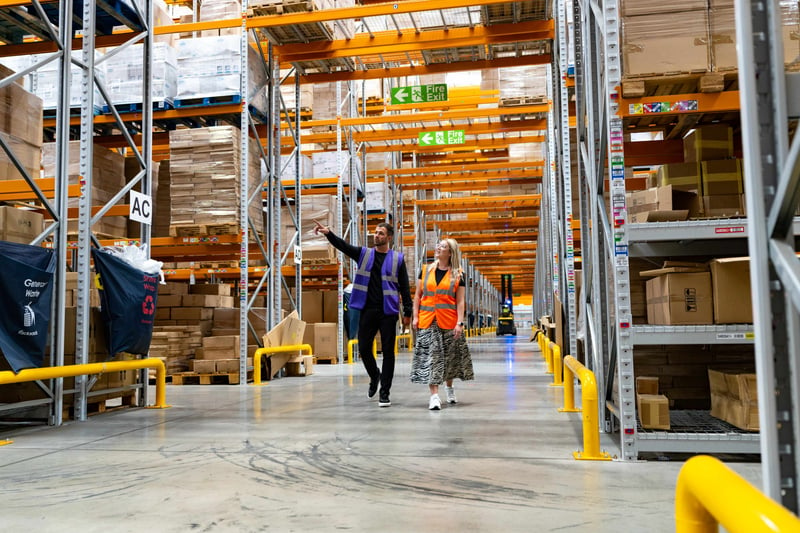 Do you need a forward-thinking partner to help open new sales channels and expand your brand across the globe? Brands choose fulfilmentcrowd for our unique service model, global coverage, expertise and advanced technology, which creates exceptional customer experiences and rapid growth.
Click here to speak to a member of the team.
We are redefining fulfilment. We are fulfilmentcrowd.